Helping fill the food banks in the Tri-Cities! Octoberfest 2021
The Octoberfest Sales and Food Drive started with a simple idea. Staff at the dealership wanted to make sure that none of their neighbors went without a meal during the holiday season-this idea resonated with the Tri-Cities. Every October for the past two decades, McCurley Dealerships has partnered with our local Yoke's Fresh Market and community partners to collect food and raise funds for local area food banks.
During October, a portion of every vehicle sale at the dealership purchases food items at the end of the event. The culmination of this year's event was a check presented by McCurley Dealerships for $58,695 to buy more food. October donations will last through the winter months. Kathy Henn, President of St Vincent De Paul Tri-Cities food bank, observed, "After today, with McCurley's help and Yoke's help, I think we are going to be fine for a while." What makes Octoberfest truly special is the tangible display of our community's spirit and generosity. 
21st Annual Women Helping Women Luncheon
The Women Helping Women Fund Tri-Cities Luncheon was huge as it was the first time they've been able to meet in person in several years. Our very own Hanh, business manager with McCurley Honda and Women Helping Women FTC board member, represented during the event. The non-profit's mission is: Empower women and children to create healthy families and a vibrant community. Throughout Benton and Franklin counties, WHWF-TC will: -Raise awareness of the unmet needs of women and children -Support community programs that make a positive impact in the lives of women and children -Foster the growth of women philanthropists See more at www.whwftc.org.
Wheels Make Wishes Come True - 2021 Corvettes on the Columbia for local kids!
Check out the total amount raised for Make-A-Wish Alaska and Washington! We teamed up with 3 Rivers Corvette Club again as we approached the $1million mark for local kids. In the 10th year of this beautiful partnership with Make-A-Wish Alaska and Washington, the community came out in a big way to support life-changing wishes for children going through so much. During Wheels Make Wishes Come True, August 1st - September 11th, a portion of every vehicle sale goes towards the final donation. As  Wheels Make Wishes Come True concludes, the biggest Corvette event in the area, Corvettes on the Columbia, took the main stage to make a massive impact for local kids. The result was over $184,000 donated to our friends at Make-A-Wish Alaska and Washington. See the check presentation and a recap of the action here!
Boys and Girls Club Benton and Franklin Counties: Mini Car Show: April 2021
Boys & Girls Clubs of Benton and Franklin Counties' mission is "To empower all young people, especially those who need us most, to reach their full potential as productive, caring, responsible citizens." We are honored to partner with them and celebrated our partnership with a pop-up car show and pizza party for the Kennewick Boys and Girls Club. Please check out how you can get involved at https://greatclubs.org/.
#bgcbfc #GreatFutures #TriCities #McCurleyCares
Celebrating 40 Years in the Tri-Cities: April 2021
Tri-Cities, thank you for 40 wonderful years! We took a moment to look back at the Tri-Cities this past 40 years and look forward to the next 40!
2020 Recap: Thank You To Our Community Partners
2020 was a challenging year, but we are prouder than ever to be part of this community. We reflected on some of our community partnerships and the incredible work going on in our community. Our partners include IMAC, Boys and Girls Clubs of Benton and Franklin County, Pets Over Population Tri-Cities, Tri-City Union Gospel Mission, Alzheimer's  Washington State Chapter, local schools, and local area food banks just to name a few. Thank you, Tri-Cities, for making this a great place to work and live. 
Tri-Cities Food Bank: Community Partner Spotlight
We are proud to support Tri-Cities Food Banks. They provide an incredible service to our community by providing food for individuals and families with food scarcity. This Non-Profit agency has been helping families in need since 1975. The stories and impact of the staff and volunteers are beyond measure.  To helpor learn more please visit. https://tri-citiesfoodbanks.org/
19th Annual Octoberfest Presentation: Recap November 2021
Once again, your donations helped to fill the gaps during the holiday season! This year this food helped more than ever as our local food banks saw up to 3x the need during Covid. Although the event happens in October, the food bank shelves are filled for the busy holiday season. We wanted to take a moment to thank your generous community and the local food banks that do so much for our community. Please check out these fantastic organizations for more ways to help. Tri-Cities Food Bank, The Salvation Army Tri Cities WA Social Service Center,Tri City Union Gospel Mission, St Vincent de Paul Food Bank - Pasco, Blue Mountain Action Council #Octoberfest #TriCities #McCurleyCares
Keeping Our Dealership Safe and Healthy
During the Challenging times of Covid. We continue to take steps to create a safe and healthy environment for our staff and customers. Thank you for helping us stay Tri-Cities strong!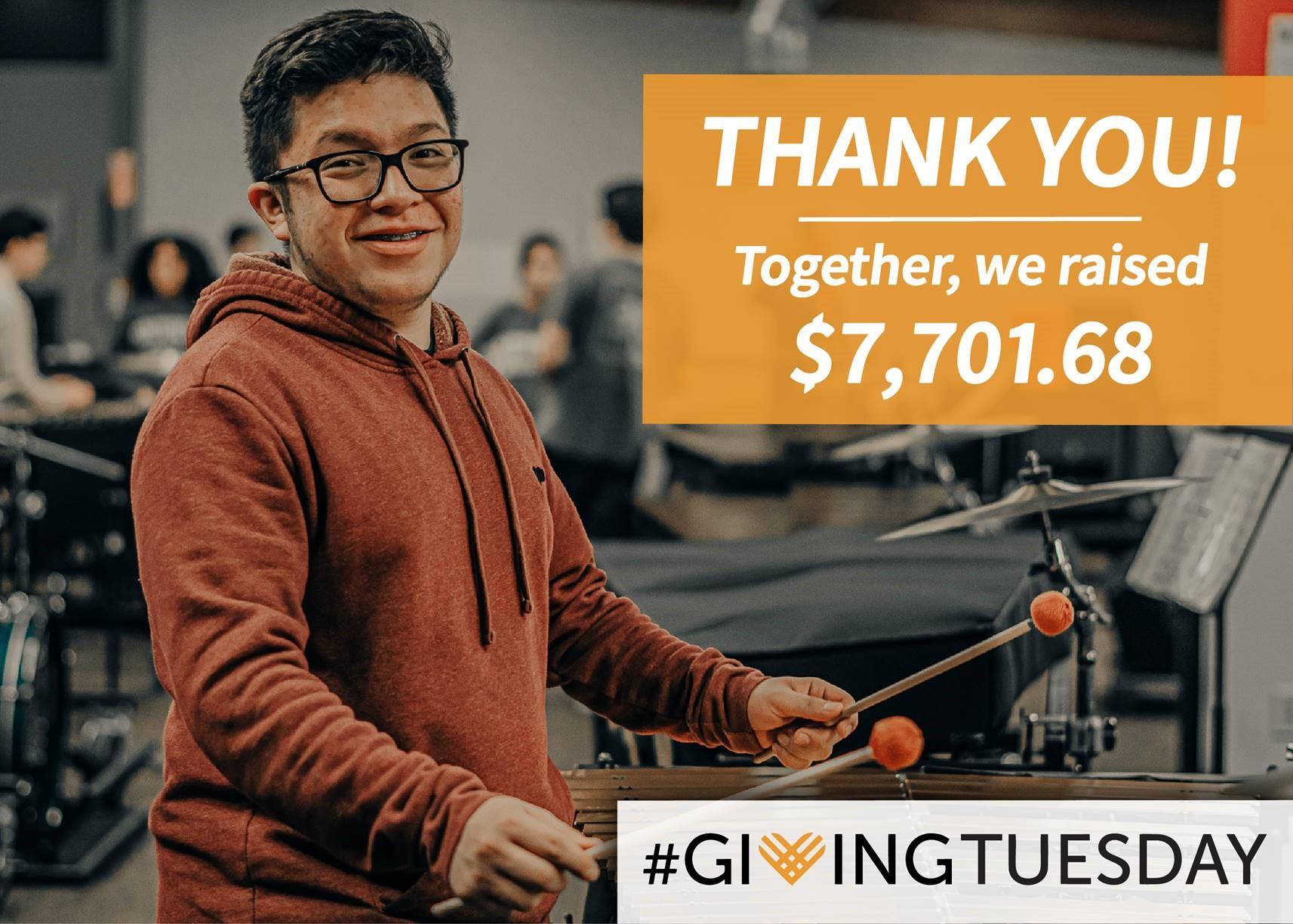 IMPACT PERCUSSION GIVING TUESDAY DEC. 3RD, 2019- MCCURLEY MATCHES
On Tuesday, December 3rd, 2019 we were honored to help support the journey to positively change lives through music.
McCurley Dealerships was able to match $2,500 donations for IMPACT Percussion on Giving Tuesday. In total IMPACT Percussion was able to raise a total of $7,701.68
The generosity of our communities allows the Boys & Girls Clubs of Benton and Franklin Counties the ability to create meaningful and life-changing experiences for young musicians in our community and beyond through IMPACT Percussion. Donors give IMPACT Percussion the flexibility to keep member fees affordable, ensuring that any young musician, regardless of background or income level, can participate.
2019 WALK TO END ALZHEIMER'S - MCCURLEY DEALERSHIPS FAMILY
On October 13th, 2019, McCurley Dealerships joined the Tri-Cities community to support the efforts to find a cure for Alzheimer's. Many of our amazing employees and their families participated by walking for a cure. We love that the Tri-Cities community and our employees are so generous with their resources and time. Join us in our support of adding the first white flower, that represents the first person cured, to the garden.
18TH ANNUAL OCTOBERFEST FINAL RESULTS
Thank you! During our 18th Annual Octoberfest the Tri-Cities and Walla Walla Communities were tremendously generous. Each year we work to raise donations and supplies and local food banks. The estimated total for the eighteen year event is over 920,000 lbs of food. The event is every October because it allows our local foodbanks to stock-up for the high demand of the holidays. We have a lot of fun working with our local partner at Yoke's Fresh Market. Customers at Yoke's purchase and donate $5 and $10 food bags all month long. We also could make it happen without Coca-Cola Distributors of Pasco and their help in storing and moving food supplies, and our friends at Mustang Signs who create awesome promotional materials. Yoke's Fresh Market customers donated 46,960 lbs of food and dealership donations totaled 11,500 lbs. Add to this the $55,295 check donation presented by McCurley dealerships and Yoke's Fresh Market Customers, and these donations will go a long way this holiday season. Ultimately none of it is possible without you, our community. Thanks to your generosity we were able to help raise over 58,460 lbs of food!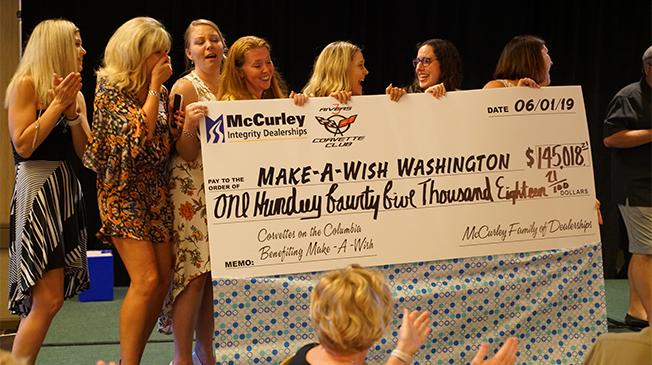 2019 WHEELS MAKE WISHES COME TRUE- $145,000 FOR LOCAL MAKE-A-WISH CHILDREN
Wheels Make Wishes Come True has become McCurley tradition. Every year we help to support the wishes of local kids through Make-A-Wish® Alaska & Washington. With your support plus big help from the 3 Rivers Corvette Club, we were able to raise over $145,000 this year! You can see the excitement at this year's Corvettes on the Columbia check presentation.
Thanks to everyone who made this possible! #MakeAWish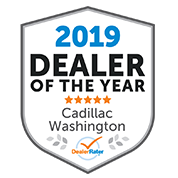 2019 CADILLAC WASHINGTON DEALER OF THE YEAR- DEALERRATER
Every year DealerRater selects one Cadillac dealership is selected in the state of Washington based on customer ratings. We are happy to announce that we are the 2019 Cadillac Washington Dealer of the Year. Thank you to all of wonderful customers.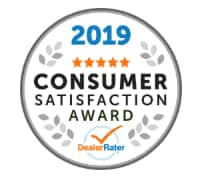 2019 CONSUMER SATISFACTION AWARD WINNER
Thank you to all the wonderful customers in 2018. Based on our high review scores we were rated as a 2019 Consumer Satisfaction Award winner. We enjoy being a part of this community, and thank you for voting us as one of the most customer friendly dealerships around.

Thank you for your business. May is a special time of the year because we get to team up with Make-A-Wish® Washington to grant the wishes of local children. A portion of your purchase goes towards our goal of granting more wishes to these amazing kids. Last year we were able to raise over $121,709 and granted 31 wishes. We hope to exceed that number this year.
 A check will be presented on June 2nd to Make-A-Wish® Washington during the Corvettes on the Columbia event. If you are able, please join us at Columbia Park. Thank you again for your support in helping these dreams to come true. Make-A-Wish® Washington has a special message for you below:
Make-A-Wish® Washington, the non-profit organization that grants wishes to children with life-threatening medical conditions, would like to thank McCurley Dealerships and you, their customers for the support of local wish children and their families. This support helps to grant the life-affirming wishes of children like five-year-old Teagan, from Richland, who wished to fly with Peter Pan. Teagan's wish gave her the hope and excitement she needed to carry her through her medical procedures and treatments, and get back to just being a kid again. Thanks to community support, the local chapter has granted wishes to more than 830 children in Eastern Washington since our inception. If you would like to help make wishes come true for other local children, please visit the local Make-A-Wish Washington website at Washington.wish.org.

WHEELS MAKE WISHES COME TRUE 2017
Thank you to all McCurley customers in May and those who attended Corvettes on the Columbia event! The final outcome will equal 31 local wishes being granted through Make-A-Wish® Alaska & Washington. Through our partnership with 3 Rivers Corvette Club, we were able to present a check for $121,709 at the Corvettes on the Columbia event on June 3rd. Thank you to all the generous people who contributed to Wheels Make Wishes and Corvettes on the Columbia. 
2018: 17TH ANNUAL OCTOBERFEST SALES DRIVE RESULTS 
The 17th Annual Octoberfest Food Drive was a huge success. You all made this possible. Over $51,000 will be used to purchase food plus another 58,000 lbs of food will be going to local area Food Banks in the Tri-Cities, Walla Walla, and the surrounding areas! Of course, none of this would be possible without all the good work from the teams and volunteers at local Food Banks. We are projecting that over one million pounds of food will have been donated to those in need by our 20th Annual Event. We love this community!
During the month of October a portion of every purchase went towards local Food Banks. Customers also brought non-perishable food items into our showrooms. On top of these donations, many community members purchased $5 and $10 food donation bags at local area Yoke's Fresh Markets. Thanks you to everyone who was involved.
2017 MCCURLEY TURKEY DONATION DRIVE IN HONOR OF JASON MONTOYA
In 2017 we were able to raise enough funds and resources to donate 670 meals to local families in need. This started as an internal event that has grown to include several local partners. For the past several years McCurley Dealerships employees and the McCurley family have sponsored the McCurley Turkey Donation Drive. These donations are distributed through multiple organizations within the Tri-Cities and Walla Walla to distribute to the families that need it the most. These groups include the Boys and Girls Club, Safe Harbor, SARC, and many more.
Supplies are purchased through the donations of employees and McCurley Dealerships. Plus we receive a great deal of support through food and supply donations. The boxes that are organized include fresh produce and dairy, supplies for sides, bread, and of course a turkey. Boxes typically produce a full Thanksgiving meal for a family of four plus donations. This truly speaks to the generosity of the McCurley Dealership's employees and the McCurley family. We are honored to be a part of a company that is not only located in our great community, but is actively involved in being a part of it and giving back. 
Thanks to Coca Cola Bottling Tri-Cities for the generation donation of their facilities, trucks for delivery, and time. Thanks to GESA for the bags. Thanks WINCO Balcom &Moe, RBD Farms, Hartley Farms, Broetje Orchards, CampbellFresh, and Terry's Dairy. Plus everyone at McCurley and in our community who helped donate time and resources.